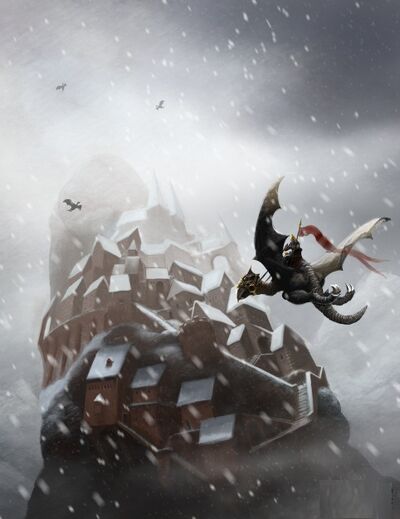 Dragonstone
is a large mountain city located in the eastern half of Westros in central Europe. Dragonstone lies as the capital of the
Empire of Dragonstone
, and is the seat of the powerful
House Targaryan
, and nearly the entirety of their loyal houses. Dragonstone is built into the mountains and is nearly an hours march up the mountain that is only approachable through a rather narrow pathway that has sheer drops all along its route.
House Targaryan is the ruling House of Dragonstone, and they have made their home within the Red Keep. House Targaryan has ownership over all the houses of the city, and this has led to their exceptionally powerful position in the city.
Dragonstone is also the home of the Targaryans dragons who are houses inside a giant cave within the peak of the mountain called Dragons Peak. This spot has become one of the greatest nests for Dragons in Europe, and though it pales in comparison to some of the largest nests in Europe its nearly ten Dragons are something to behold as they fly in the skies above Dragonstone.
Dragonstone was founded after the members of House Targaryan discovered the mountain and decided to lay claim to it in order to stop their constant fleeing from trouble. The members of House Targaryan would be ambushed by Dark Elves upon entering the city but were able to defeat them, and after defeating the Dark Elven residents that had used the site as a fortress for their evil for centuries they begin fortifying the city itself, in the hopes of turning it into a major city. This worked and the city has grown into a proper city, and is heavily protected by its extreme altitude and only having one reasonable way to reach it from the land. This has allowed the Empire of Dragonstone to grow much faster and powerful then it would have if they had to worry about threats around them.
History
Founding
Main Article : House Targaryan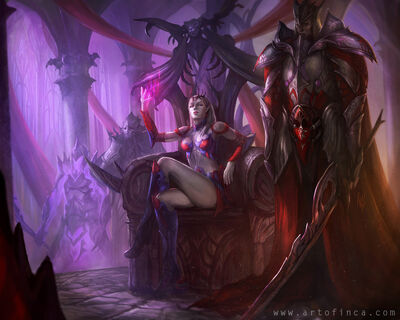 When Aryes Targaryan III. saw the mountain of Dragonstone he immediatly knew that this was the spot that House Targaryan would stop. Aryes led the caravan up what they discovered was a mountain trail. As they moved up farther they discovered a series of small temples and shines to gods they had never seen before.
After hours of marching up the trail the caravan was grreted with the site of a massive stone wall blocking their route. As they moved towards it they were greeted by three elves of clear dark elven appearance. As Aryes looked around and saw the ruins of other caravans, skeletons he immediately realized they were in some serious trouble. The elves bid they come inside their camp, and Aryes knew he had to think quick about how they were going t survive this, so he agreed to enter but he also spread word amongst his house that they were to prepare for battle, and when he gave the command they would attack the elves before the elves attacked them.
"She was enchanting beyond anything I could comprehend, and as she spoke I could see my cousin and servents all bending the knee before her. She moved her gaze from them too me and I felt a litteral pull to obey. As I felt my knee move down, I used everything in me and released my sword from its sheath and took her beautiful head from her body. The suprise in her eyes as it happened was palpable."
-Aryes Targaryan
Growth
Coming of the Dragon
The Coming of the Dragon
I never believed truly that playing that harp would bring about anything more then good music.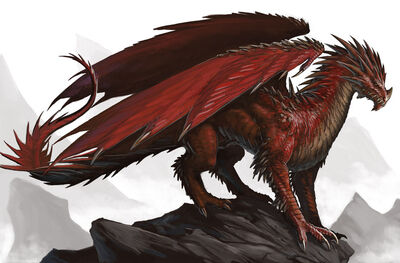 "

Flenix would give rise to everything our dreams had ever created. After Flenix arrived it was as if the world was finally open to us. Nothing was impossible anymore.

"

—

Rhaegar Targaryan
After months of failure in producing a true dragon that they could birth a generation of Targaryan dragons from, the situation changed on a dime following Rhargar playing the Targaryan Harp successfully. Rhaegar had spent a long time attempting to use the Harp without success but one night he had a graphic dream in which he was fighting a dragon, and after losing in the dream nothing changed with the harp, but eventually he had the dream again and when he won this time the Harp begin playing for him. After this the massive tower of Dragonstone was fully repaired and at the top of the tower Rhaegar played his harp once a week until finally six months later the red dragon Flenix heard the song and came to Dragonstone. This was seemingly just another time that Rhaegar Targaryan had played the harp, but on this day as the music reached the ears of Flenix it would be only hours after he had that Flenix had appeared in the sky and then fallen just as quickly. Flenix landed in the northern part of the city and he landed directly on the small lake that eisted in the lake. The entire city flew to the spot he had crashed all wanting to see why it had crashed, and when Rhaegar arrived he was shocked at the condition the dragon was in. Flenix was a younger dragon but he had scars all over the one side of him, and he could barely lift his head, and with that came the fears that he might die. Rhaegar had been the first to get across on one of the small boats but only minutes after he had disected the situation he was accompanied by others from the mainland, and together they attempted to help the Dragon.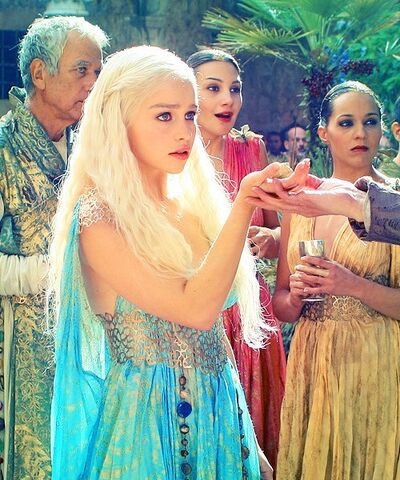 "

To see something that beautiful was one thing I never thought I'd get the chance to see. The dragons were always nothing more then a dream that I kept ahold of because it reminded me of the world that was before my father lost his mind.

"

—

Aryes Targaryan III.
Over the course of the hours that followed they begin bringing materials onto the island and over the following days as they tended to his wounds they constructed around him a makeshift wooden house where he would be allowed to heal. During this time Rhaegar the young prince of Dragonstone was never far from his side, and alongside him his younger sister Deneyres Targaryan also became glued to the Dragon who had yet to raise his head or make any sign that he was alive other then the fact that he was breathing. Over the day nearly every noble would attempt to see the Red Dovah but eventually Deneyres would convinse her brother Rhaegar to not let anyone else in, and that they needed to give the dragon time to heal itself. As time went by it was the simple singing of Deneyres that would wake the mighty red drake, and Deneyres begin to notice the dragon reacting to her voice. At first they just desperatly wanted Flenix to drink or eat, and they were able to feed and let him drink thus getting him more strength. It was after nearly a week of this process that Flenix finally opened his eyes and ushered the first words to Deneyres Targaryan.
Conversation Incoming
The Dragon is coming, and we shall fly with Red Wings once again..
The Dragon would look at Deneyres in the eyes before its mouth opened only slightly to allow it to speak. "What is the meaning of this kindness young one?" At hearing the Dragon speak in its tongue and being shocked she could understand it, she was more then a bit shocked but she refused to scream and scare the wounded dragon so she used all her strength and courage and talked to the dragon.
"My family wishes to help you. We want...we need you to save us." The dragon paused for a moment before responding to her again in its dragon tongue.
"What could I possibly save you from. Your people have hunted mine to the brink of near destruction. I harkon to think that I could help you." Flenix would become somewhat angry during this as he was clearly upset over the continent wide genocide that had been going on against the dragons of Europe. Flenix was a member of the Red Dovah of whom were the most numerous but even the Red Dovah were nothing but a shadow compared to the numbers that they once had.
"But you can. We are believers in your kind. I mean you no harm, and neither do any that I walk with. I can promise you that while you or any of your kind are in our care no harm shall come to you."
Flenix would at this attempt to stand but didn't have the strength and fell back to the floor, where Deneyres rushed to attempt to console the dragon. "You truly mean what you say don't you young one?"
"I have never meant anything more in my entire life. You can save us, and maybe at the same time we can save you."
Flenix and Deneyres would talk for some time, and eventually Flenix was lured in by her promices of protection and a part of something more then just fleeing constant attacks from Dragon Hunters. With this Rhaegar would enter the tent followed by several members of House Targaryan and their allies of which each would promice that they would remain loyal to the dragon, and in this oath never turn away from this loyalty. The final one to enter was the old and sickly Aryes Targaryan III. of whom was carried in by Viserys, and Hanzal Targaryan and would rest himself on the floor infront of the mighty dragon, who by this point was now standing and walking throughout the island home. Aryes it is said weeped in front of the dragon as he finally for the first time in his life came to realize that the pain and harship that he had endured as a child was now possibly going to lead to something better. Flenix would move towards Aryes and would speak softly to the old leader of House Targaryan and basically promise himself to the members of House Targaryan until such point that their bloodline was spent.
Demograpahics
Points of Interest
Noteable People
Ad blocker interference detected!
Wikia is a free-to-use site that makes money from advertising. We have a modified experience for viewers using ad blockers

Wikia is not accessible if you've made further modifications. Remove the custom ad blocker rule(s) and the page will load as expected.